The Old Chicago Post Office is a massive building spanning 2.5 million square feet across three city blocks, all of which stood unused and nearly derelict for over twenty years. The prospect of restoring the building to its former glory was continually dimmed by the immensity of it. There are not many construction outfits with both the appetite and capability to tackle a project of that scope. In the end, the daunting job of renovating the cavernous building was undertaken by BEAR Construction Company. A family business started by three brothers in 1984, BEAR Construction insists on treating every aspect of their business with the same culture of family it began with.
The 36,000 square foot office and warehouse BEAR currently calls home in Rolling Meadows Illinois is a far cry from the one-room office it started in. For the first few years of its existence, jobs were relatively small and in the 4-figure range. A decade later annual revenue had tipped well into the millions. Slowly but surely the company grew. By the time 2008 rolled around the company enjoyed a healthy revenue of around 90 million dollars annually. And then the financial crash hit. Like companies everywhere, BEAR was hamstrung by the global downturn. Executive Vice President Scott Kurinsky recalls, "When the 2008 housing bubble burst and the economy fell into a recession in 2009-2010, we took a pretty tough hit at that time. Business was down substantially, to the tune of a nearly 50% drop." With revenue taking a steep cut, however, the owners chose to act in a manner that reinforced the company wide values they had worked hard to instill over many years. Kurinsky continues, "One thing that our owners did, which really led to our recovery was, instead of laying off most of our staff, which a lot of our competitors were doing at the time, we all took a reasonable pay cut. And the three owners didn't take a salary for almost a year. By doing that, they allowed the company to survive." Retaining most of their staff allowed BEAR to bounce back more quickly than most of their competition when the market rebounded the following year. This family mindset reaped enormous benefits in subsequent years as, compared to pre-financial crisis levels, BEAR Construction's revenue tripled in 2012. And this growth enabled them to be the kind of company that could handle a job like the Old Chicago Post Office.
Across a series of building projects in the first half of the decade, BEAR built up a relationship with 601W Companies, the group that would go on to purchase the Old Chicago Post Office in 2016. Successfully completing dozens of jobs had put them in good stead to step up to the mark for the mammoth project when it became available. Anyone taking on the job of renovating the interior assumed colossal risk. Kurinsky said, "It was a huge gamble for any group to buy that building. It was in a very advanced state of disrepair. It's also a very unusual layout consisting of three independent structures, which provided a huge challenge to design and leasing. But 601W had faith in the Chicago market and took that chance." BEAR proved their mettle and met those challenges with aplomb. Within four years of the building's purchase the renovation was completed and over 80% leased. Considering the delicate historical preservation work inherent to the project and the sheer physical size of the building, it was an aggressive timeframe in which to complete the work. According to Kurinsky, "Throughout the building there were numerous historical preservation issues which made it challenging for us. For example, we had to find plasterers and bronze casters and trades that really don't have any real presence in commercial construction anymore. And on a large scale. Not just a little wall of plaster here or there, we're talking about acres and acres of it." BEAR finished the job in 2019, laying claim to the largest historical preservation project completed in years in the United States – an absolutely stunning achievement for any construction firm.
"We had to find plasterers and bronze casters and trades that really don't have any real presence in commercial construction anymore. And on a large scale."
Of course, it wasn't long after the enormous success of the Old Chicago Post Office that another crisis struck. One that everyone is still currently navigating their way through. The global pandemic has devastated business across the spectrum and once again, BEAR faced difficult decisions that would affect the livelihood of all its 250 staff members. In this instance, proactive measures that BEAR had previously instituted to create a flexible working environment for its people proved to be sagacious. Many members of staff already worked from home at least part of the time pre-Covid and as such, BEAR had the experience and technological solutions in place to deal with the incredibly disruptive situation. Kurinsky noted, "We were able to adapt pretty quickly. And it also reinforced for us that we are in a business where we need to be hands on. We need to be on job sites so we all can't work from home five days a week. But to allow people the flexibility to do so a day or two a week or when their schedule allows, I think it really has strengthened our already great culture." It's a culture that has paid massive dividends for the company. This culture is evident in the variety of ways in which BEAR Construction 'pays it forward'.
Part of its increasingly large portfolio of clients are companies in the Healthcare sector. They've historically made up anywhere from 30 to 40 percent of annual sales for BEAR. Kurinsky said, "Because many of the healthcare groups that we work for are nonprofits, there's a huge need for donations and sponsorships. So that's a big part of our corporate philanthropy." Not limited to healthcare, BEAR works with local community groups and is involved in mentorship programs such as BuildOn, which provides needed guidance to local youth and builds schools in developing countries with the young people from those programs, offering them life-changing experiences. Kurinsky added, "My grandparents instilled in us the notion that you must earn what you have in life, but you also have to help others make their way. And, you know, always be willing to lend a hand when someone's in need. So that really translates to how we do business, too."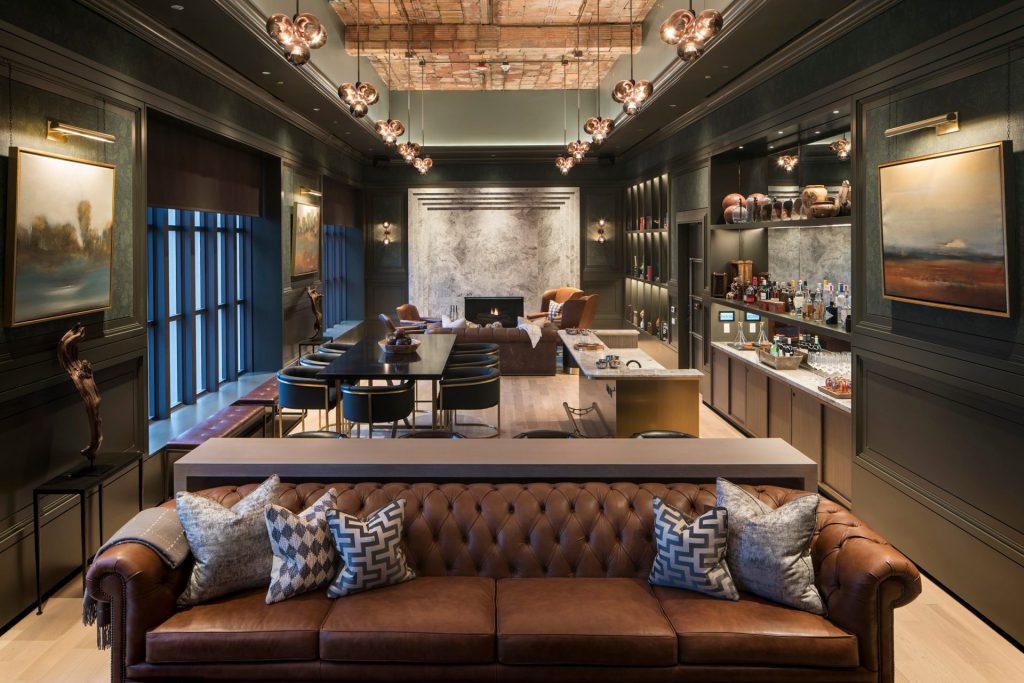 Continuing to act in accordance with the company's core values has steered BEAR unerringly through the two biggest crises of the last twenty years and has fostered tremendous growth in the past decade. Before the pandemic struck the company was nearing revenues of 300 million dollars annually and only expects that to grow in the near future. Successfully renovating the colossal Old Chicago Post Office, a building steeped in history and culturally important to the city's denizens, provides an immense platform for the company to move forward. The sky is truly the limit for this outsized family firm. Looking towards the future of the company, Kurinsky remarked, "We're really targeting healthy growth over the next 5 to 10 years. We're working on succession planning now for future generations of this company. We don't necessarily have aspirations to be a billion dollar company in five years, but I certainly think we're heading in that direction. Eventually I think we will be at that size. And whether it takes 3 years or 10 years to get there is a question but you know, how we get there I think is equally important. We want it to be the right way and for the right reasons." A billion dollar company built on family values? Don't bet against it.