In order to be successful, a business must be ready to meet multiple demands from an array of sources. These demands; such as products line, service and efficiency can blur and change over time, molded by trends and external market forces. To withstand these diverse challenges a business needs to be on sure footing, to know where it has come from and where it is going. It needs to have foundations in place that allow it to bend and pivot when change is required, while never losing sight of what has led it to its current position. Insulated Roofing Contractors, a nationwide company based out of New Albany, IN, has a rich history which dates back to 1974. The company, family owned and run since then, has created a foothold in the market by sticking closely at all times to its vision of meeting the needs of its customers "with honesty, teamwork, and integrity." Regardless of what changes the markets bring, IRC has, for forty seven years and counting, providing solid and reliable solutions with innovation and trust at its core.
The company, like others that span multiple generations, started from humble beginnings. Back in 1974 the enterprise was being run from a pickup truck with the whole business quite literally arriving at a job. What the company may have lacked in size at the time, it certainly made up for in character and integrity. As Marketing Director of IRC, Justin Baird, explains, while the company that his grandfather started may have had a few rough edges, it has now consolidated into a far more professional entity. "At one point it was just a guy in a truck, pulling up to the building and spraying right out of the truck, but it's grown quite substantially since 1974. We have now completed over 10,000 jobs and we have sprayed, or laid over 140 million square feet of roof. So, while we may have started off in a truck and a trailer type of situation, we now have 14 crews and a fleet of vehicles." What is clear from speaking to Justin is that, while the company has undergone enormous growth and development over this time, there has been an unyielding belief in two things; the importance of strong relationships with its customers and the integrity of the products that it offers.
IRC is a commercial roofer with an ability to meet the requirements of any and all roofing project. However, in addition to in-house skills that cover the gamut of industry needs, the company prides itself on its ability to excel in one particular area. While the company does offer single-ply roofing solutions to customers, what really sets IRC apart is its use of Spray Polyurethane Foam. Justin readily accepts that this is the area in which the company specializes. "What we are known for is our spray foam. We are one of the largest spray foam roofing contractors in the United States." While it may not be the most commonly used material in the roofing industry, the facts around its efficiency tell a very different story entirely. Due to the ease of application its long term durability and top tier insulation properties, the roofing system is considered by those in the know to be one of the best materials for its purpose on the planet.
The company approaches every project with a willingness to support the customer in whichever way is needed and, by building almost half a century of knowledge and expertise, IRC is ideally positioned to assist customers on a range of services such as repairs, maintenance, retrofitting and new-construction. Undoubtedly, each project will have its own set of criteria and considerations, however, the benefits of using spray foam are far-reaching. With an average life expectancy of thirty five years, spray foam is a highly durable and efficient material which offers vast improvements to energy consumption compared to alternative roofing systems. Due to these savings, the roofing system recoups its cost in under five years and offers 50 cents per square foot in annual savings.
"We have now completed over 10,000 jobs and we have sprayed, or laid over 140 million square feet of roof."
In an industry which is only now beginning to see the need to work in a sustainable and energy efficient manner, it seems as though those at IRC have been quietly excelling in the area of energy conservations for many years. Not only does the material have the highest R value of any alternatives, it offers superior efficiency in terms of both heating and cooling. For example, as Justin explains, on a typical ninety degree day, a spray foam roof will retain a temperature that is 50 degrees lower. This, when combined with other energy efficient factors, contribute to a fifty percent reduction of energy usage for the building. This figure is impressive enough but when you factor in that forty percent of a buildings energy is dedicated to heating and cooling, the benefits of using spray foam soon become apparent. "We are just encapsulating the building. With spray foam, neither the heat or cold exit through the roof. There are no theoretical penetrations anymore because they are all covered up and encapsulated, so there's a lot less room for that heat to escape. Your building stays cooler longer in summer, and warmer in the winter."
After forty seven years in business, it makes sense that IRC now enjoys a wealth of established relationships and repeat customers. While these are certainly of benefit to any company, they alone could not ensure the survival of the company through a pandemic. When faced with the devastating effects of COVID, IRC were forced into a rethink. After taking a couple of weeks to strategize and plan, the about-turn, to focus the majority of its work on educational settings, turned out to be a masterstroke. By identifying the structural needs of these buildings, in addition to the opportunity to work within these premises causing no disruption to learning, the company managed to navigate the choppy waters of recent times skillfully. "I guess in the past year, the education industry really helped us. It made sense as nobody was going to school. A lot of educational facilities were empty so it was kind of a perfect situation. Usually, it is really difficult for schools to get their roof repaired because of the kids in the school. So that was really nice and we kind of helped each other out."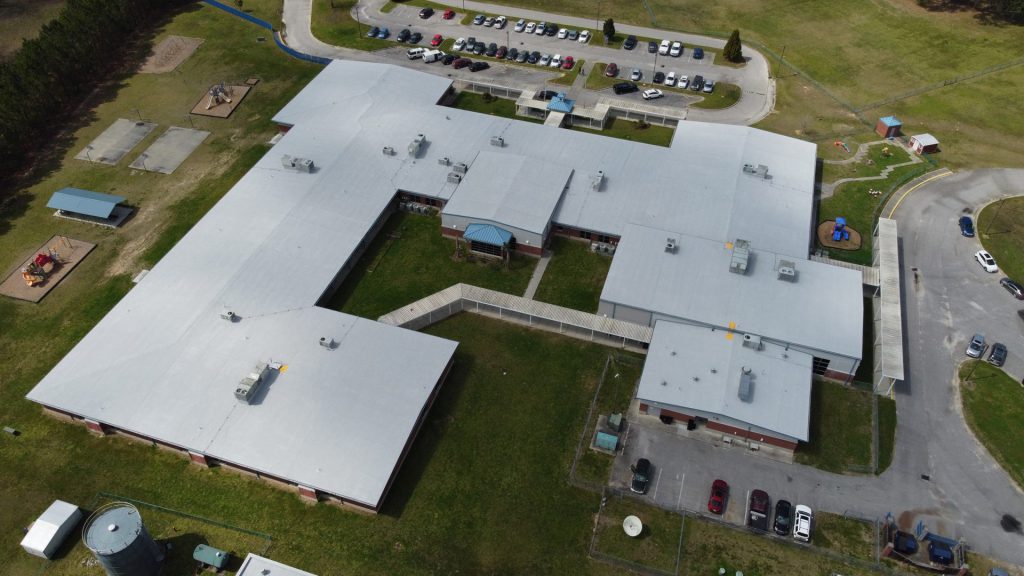 Being at the heart of a skilled section of the roofing industry cannot be the easiest position to be in. The need to maintain high levels of excellence and a pioneering spirit can be exhausting. However, by ensuring the highest level of service and professionalism over generations, IRC has amassed a large body of working relationships. Having been built through a family unit dynamic, the company enjoys a synergy with both customers and suppliers alike. These strong relationships have also benefitted IRC hugely in recent times as, in addition to the safety and financial implications that have resulted from COVID, lead-in times for materials and production costs have escalated to worrying levels. Thankfully, as Justin admits, these secure and long lasting relationships have ensured that IRC can meet its commitments and deadlines. "With suppliers, an estimate of how long it would take us to get things was between 13 to 16 weeks. Then, they came back and now it is about six to eight weeks so, we see that you're trying to make improvements and to help us get our material. I feel like with our relationships with suppliers, because they are so good, and sometimes we have been able to be fortunate enough to get what we needed in time. So that was nice." This supportive working environment is something that has been crafted and instilled in everyone linked to Insulated Roofing Contractors over many years. Currently, the company is at a crossroads of sorts. Not only is it eager to continue its journey in providing innovation, professionalism and quality to every project through ongoing expansion and growth plans, the long and established history of the company remains at the forefront of everything it does. "I think our mission statement hits the nail on the head. Without that honesty and that integrity, I don't think we'd be anywhere. We truly do believe that when we say we are going to do something, we really are. We are all about quality, and we really do care about our customers. Most of all, we are a team here. This is a family. Everybody in this company is family to me. We all just want what is best for the company and not personally." Clearly, after almost half a decade, IRC is doing something right. By remaining true to its core values and maintaining the familial relationships to its staff and customers alike, you wouldn't bet on it being around for quite a while yet.