The Buildings Show 2021 took place at the Metro Toronto Convention Centre from December 1st – 3rd. The event was billed as an opportunity to showcase The Power of Together and, given that it was the first in-person event to take place in 21 months, it offered the industry a much needed return to community, support and connection. We attended the event as Media Partners, and were greatly encouraged by the number of impressive and interesting topics of discussion, from innovation and sustainability to inclusion and diversity within construction, the presentations were wide-ranging and vital. Here, we take a look at just some of the key points we took away from the event…
High Quality Engagement
The need to migrate trade shows to an online platform due to the pandemic was a necessary but unfortunate one. While organizers and contributors alike made their best efforts to engage with partners and observers over the past two years, a purely online presence inevitably lacked the camaraderie and connection that only in-person events can provide. As we all know, the excitement and connection from any event such as this is almost impossible to replicate in a virtual setting. With this in mind, Informa made the brave decision to venture back out into the world and offer a hybrid experience that reintroduced some face-to-face events. From speaking to various attendees, it seemed to have paid off. While, understandably, the number of attendees was lower than historical shows, the quality was rich and varied. What we noticed were high class presentations, innovative products and genuine opportunities to make meaningful connections across the industry. We have all had to be quick on our feet throughout the pandemic, pivoting and weaving through wave after wave of fresh challenges. However, the event felt like an opportunity to celebrate. Our industry had returned to something close to normality and it felt good to be back.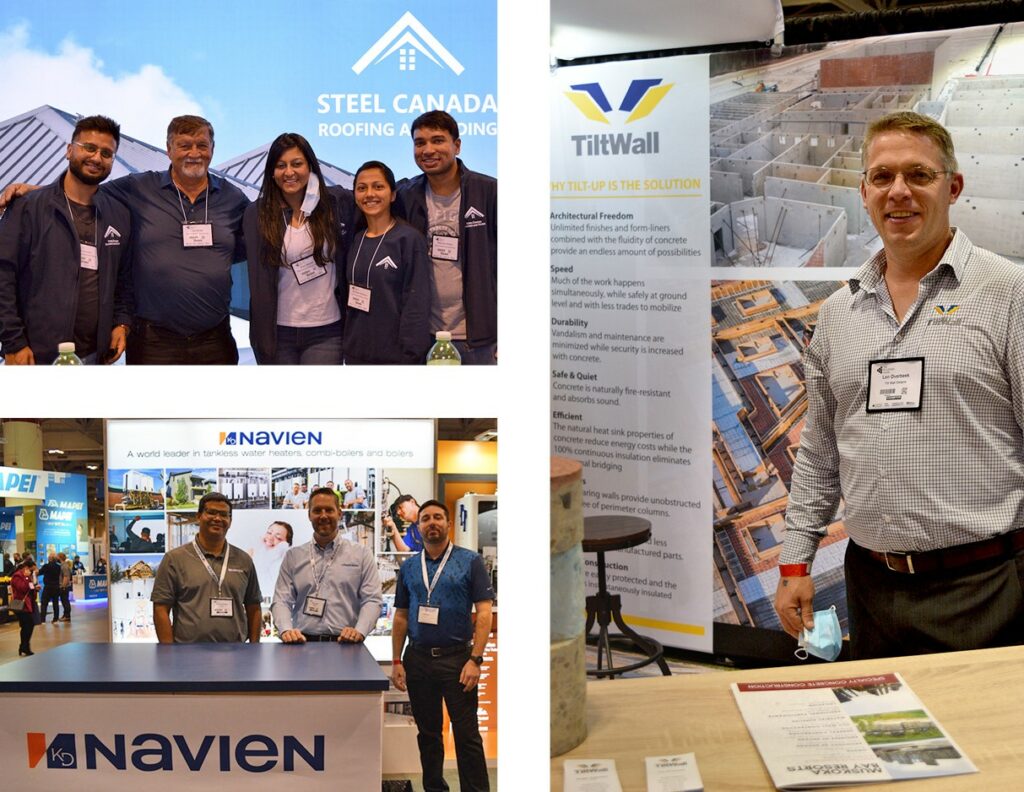 Sustainability at Top of the Agenda
It is an impossible topic to ignore and every aspect of our industry is tasked with implementing sustainable practices to the best of its abilities. Nonetheless, it was apparent from even a cursory reading of the listed events that Sustainability has become much more than a byword in the industry. From Net Zero Renovation tips and discussions on Low Carbon Concrete to Passive House designs and using AI to enhance sustainability in the design process, it is clear that a huge focus throughout the industry is on the topic of sustainable practices.
What is interesting about this is that clearly, this is a topic that our industry wants to learn about. The vast majority of high profile presentations and events centred around the topic of sustainability in some form. Every aspect of the industry was covered, from design and architecture to materials and tools. Each subsection of construction has the opportunity to buy into sustainable practices in a very real way. Additionally, and most importantly, these discussions, round-tables and presentations were some of the most highly anticipated and well attended of the entire show.
The Industry is Future-proofed
The construction industry relies on its many diverse fields all working in a co-dependent synchronicity. Without being too dramatic about it all; it all works together to complete the project. However, as our world develops at a rapid pace and there is an ever growing reliance on all things 'Smart', we are starting to see certain aspects of the industry become obsolete. Technological advancements are creating compatibility issues with certain products and pieces of hardware. The awareness of this from within the industry was evident throughout the Buildings Show. In response to this, a noticeable shift away from hardware is happening within the area of smart technologies, and in particular smart buildings. Software is now taking centre stage, providing platforms for advancements and development to be applied in real time with very little retrofitting or intrusion required. According to 1Valet, a provider of smart building operating systems, this is an inevitable development in the market. "This shift towards software-based solutions was evident at this year's event, with many exhibitors tailoring their solutions to be less hardware-focused. This demonstrates that the best way to future-proof buildings is through software-based platforms with hardware integrations that consistently receive updates."